National Thank a Teacher Day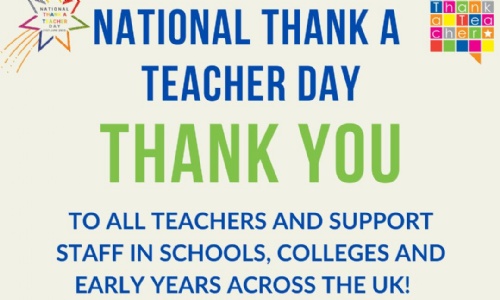 The UK-wide celebration of all teaching and support staff is back, National Thank a Teacher Day will be celebrated on Wednesday 21st June!
Liberty Academy Trust would like to thank all our staff in our schools for the great work you do every day. Because of your teamwork, courage and determination our pupils are understood and have the chance to opportunity to achieve academically and develop skills that support their quality of life, now and in the future.
This year is all about gratitude, recognising the long-lasting impact that education has on individuals and throughout society. Recently supported by celebrities such as Dame Helen Mirren, Dame Joanna Lumley, Stephen Fry, and David Walliams, don't miss your chance to join them in saying thank you.
This year a limited-edition e-card has been illustrated by much loved author and artist Charlie Mackesy! So if you know a special teacher, teaching assistant, librarian or even a whole school team, make their day and let them know how grateful you are by sending a free e-card at www.thankateacher.co.uk.
You are also able to enter celebrity judged writing and baking competitions with prizes on offer! Head over to the competitions page on the Thank A Teacher website for details on how to enter, and your entry could be read out by celebrity judges including Nadiya Hussain and Sir Michael Morpurgo.
With celebrations across the UK get involved on social media using #ThankATeacherDay and #WhoHelpedYou. There will be plenty of exciting updates ahead of the day, so follow @UKThankATeacher on Twitter to hear the latest on competitions, giveaways and celebrity shout outs. We can't wait to celebrate with you!