Thames Valley School Celebrates Success ​​​​​​​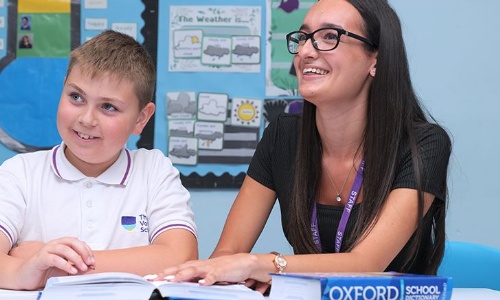 ++ Students secure qualifications and take next step ++
Students from Thames Valley School are celebrating after successfully achieving the qualifications they need to move on to their next stage of education, training or work.
For the specialist school in Reading, which is part of Liberty Academy Trust, the results are a major milestone and the culmination of many months of effort and hard work. Alongside formal qualifications, all Year 11 students were awarded with a certificate of achievement to commemorate their time at the school - as well as some useful gifts to help them in their next placements - at a special celebration brunch with their teachers and families.
Amongst those celebrating today are:
Jaymian (JJ), who was the first student to join the school when it opened in 2013. We are so proud of JJ's progress over the past 10 years, during which he has worked incredibly hard to develop his resilience and perseverance to enable him to achieve Entry Level certificates in Science and Maths, and several Unit Award Certificates in English. These, alongside successful transition visits throughout the Summer Term, have enabled JJ to take up a place at Reading College on a Stepping into Further Education course in September.
Dominic, who joined the school in 2015 and, through his time here, has developed key strategies which have enabled him to access a wide range of learning opportunities across the curriculum. As Dominic's confidence has increased, he has put a great amount of effort into his education, sitting a wide range of qualifications including GCSE Maths and Computer Science, Entry Level certificates in Science and English, a Level 1 Award in Catering and Hospitality, as well as a Sports Leaders Award. It has been fantastic to see Dominic engage so well with younger students, leading some fun sporting activities and having the confidence to become a role model.
Thames Valley School is ambitious for its students and seeks to advance thinking on what autistic people can achieve. Ahead of the assessments, it worked closely in partnership with each student and their family to match them to the most appropriate qualifications, based on their academic stage and future aspirations. In the run up to the exams, the school also provided additional support, such as advice on managing test anxiety, and ensuring the right access arrangements were put in place, so that each student was able to perform to their best.
Gemma Buley, Interim Head of School, Thames Valley School, said: "It has been a huge privilege to work with all our Year 11 students, who have shown great courage and determination to reach this milestone. Their achievement is inspiring and, while we will miss them when they leave us, we are incredibly proud of the impressive young adults they have become."
Dr Nic Crossley, CEO, Liberty Academy Trust, said: "I am immensely proud of our students, who worked really hard to prepare for their assessments and to rise above any additional challenges presented by their autism. We believe passionately that autistic young people should be given the same opportunities as others, and I am thrilled that, like their peers, they have secured their ticket to the next stage. This is a major achievement to celebrate and an important milestone in the journey of Thames Valley School."