Vanguard School celebrate success ​​​​​​​​​​​​​​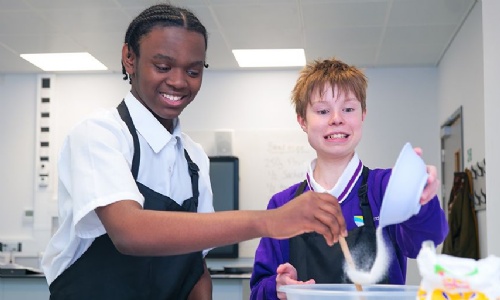 ++ Students secure clutch of qualifications and take next step ++
Students from Vanguard School are celebrating along with their peers after successfully achieving the qualifications they need to move on to their next stage of education, training or work.
For the specialist school in Lambeth, which is part of Liberty Academy Trust, the results are a major milestone and the culmination of many months of effort and hard work.
These were the first exams taken at the school, which only opened in 2020.
Amongst those celebrating are:
Benjamin, who was among the first students to join the school when it opened in 2020. We are extremely proud of the progress he has made and the effort which he puts into his studies have culminated in Ben achieving qualifications in Maths, English, Geography and Art. Ben will continue studying at Vanguard School Sixth Form in September.
Zakaria, also part of our inaugural cohort of 2020 and who continues to make significant progress, while overcoming challenges along his educational journey. He has achieved GCSEs in Maths, English and Art. This is also accompanied with Level 2 qualifications in Science and Geography. He will continue studying at Vanguard School Sixth Form in September.
Vanguard is ambitious for its students and seeks to advance thinking on what autistic people can achieve. Ahead of the assessments, it worked closely in partnership with each student and their family to match them to the most appropriate qualifications, based on their academic stage and future aspirations. In the run up to the exams, the school also provided additional support, such as advice on managing test anxiety, and ensuring the right access arrangements were put in place, so that each student was able to perform to their best.
Marcus Henry, Deputy Principal, Vanguard School, said: "These are fantastic results which demonstrate the very high academic standards we have set at Vanguard. Students have achieved well across a range of subjects including Mathematics, English, Science, Geography and Art, reflecting the strength of teaching across the curriculum.
All of our students are incredibly ambitious for their future and are determined to achieve their goals. They have each shown an unwavering commitment to their studies – with many overcoming significant challenges along the way – and I am delighted that so many of them have secured the grades they need to move on with their education.
I would like to congratulate each of them and wish them all the very best for a successful future. We are so proud of everything they have achieved."
Dr Nic Crossley, CEO, Liberty Academy Trust, said: "I am immensely proud of our students, who worked really hard to prepare for their assessments and to rise above any additional challenges presented by their autism. We believe passionately that autistic young people should be given the same opportunities as others, and I am thrilled that, like their peers, they have secured their ticket to the next stage. This is a major achievement to celebrate and an important milestone in the journey of Vanguard School."